Visual Storytelling
Amaranthyne

How can we visually and emotionally connect
a sculpture to its geographical and culture heritage?

Clarges Mayfair
is a prime residential development built by the British Land Company. With protected views over Green Park and Buckingham Palace, the building's design and architecture is rooted in the belief that the rich tradition and character of Mayfair must be respected, while also allowing for a considerate dialogue between old and new. Amaranthyne - the atrium feature and centerpiece located in the main entrance - celebrates the history of artisanal crafts and recreational pastimes of the area, through complex layers of lighting, colours and illustrations.
As an integral part of a team of designers and engineers at Haberdashery Studio and in collaboration with interior designers and architects, my role as a graphic designer and colour specialist was to research and visually translate the essence of Mayfair into simple, yet powerful illustrations and lighting cyles.

Amaranthyne was nominated for the
Frame Award 2018 as Nominee for the Best use of Light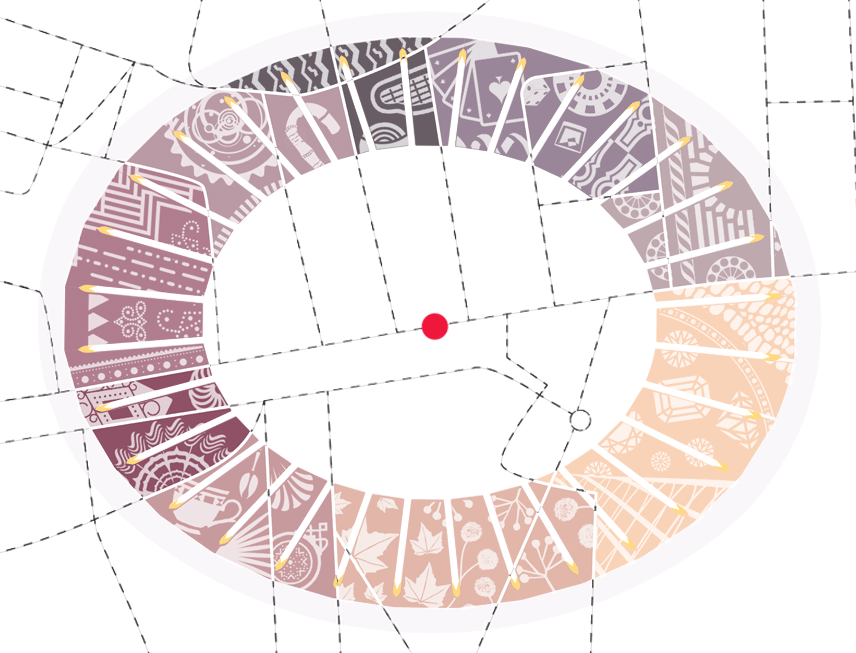 Through a 31m circumference illustrative frieze comprised of 32 decorative panels altogether made of over 200,000 hand-adjusted surfaces reflecting light and colour, this highly narrative driven sculpture is paying tribute to the cultural heritage of Mayfair, Picadilly.

Following an extended period of research, testing and experimentation, the final design settled on 9 carefully defined sections, each inspired by visual, cultural and historical references of the area.

Details within the perforated white frieze are revealed and hidden again depending on the viewing angle and the time of day while 4 discreet visual cues referencing the main cardinal points helps the visitor relates to its position in space and time.

The lighting system explores an ever-changing cycle linked to the real-time transition of the seasons outside each and every day.